When:
July 21, 2022 – July 31, 2022
all-day
2022-07-21T00:00:00-04:00
2022-08-01T00:00:00-04:00
If Fayette County is in the red (high) level of COVID19 cases during the run of this show, masks will be required in our building. For more information about how we're keeping our LCT Family safe, click the button below.
Family Weekend Performance Dates: July 21-31, 2022
Discovery Audition Dates: May 6-8, 2022.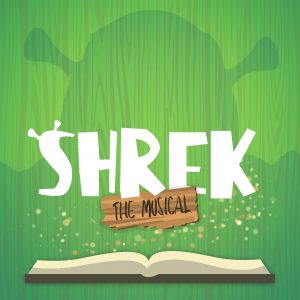 You know the stories. You've read the fairy tales. They all begin with "Once Upon a Time" and end with "Happily Ever After" and there's a whole lot about Daring Quests and Magic Spells and True Love in between. They all say that princesses are pretty and delicate, donkeys don't talk, and ogres are certainly, absolutely, never the hero. But maybe, just maybe, the stories might be wrong.
Join Lexington Children's Theatre for this wacky musical celebration of friendship, fairy tales, and the things that make us special. Shrek The Musical opens July 21 and our story won't be complete without YOU in the audience! So, get ready to laugh your gumdrop buttons off and expect the unexpected, because THIS is a fairy tale like you've never seen before.
Based on the Dreamworks Animation Motion Picture and the book by William Steig
Book and Lyrics by David Lindsay-Abaire
Music by Jeanine Tesori
Originally produced on Broadway by DreamWorks Theatricals and Neal Street Productions
Best enjoyed by ages 6 and up
Performed on The Larry and Vivian Snipes Main Stage
Length of Show: Approximately 2 and a half hours long with an intermission
---
Family Weekend Performance Info
Thursday, July 21 – 7:00pm
Friday, July 22 – 7:00pm
Saturday, July 23 – 2:00pm
Sunday, July 24 – 2:00pm
Thursday, July 28 – 7:00pm
Friday, July 29 – 7:00pm
Saturday, July 30 – 2:00pm & 7:00pm*
Sunday, July 31 – 2:00pm
*Pay What You Will
Things to Know Before the Show
About LCT's Summer Family Musical
Shrek is our 19th Annual Summer Family Musical, and the first time in three years we're able to bring this special production to our stage! At, LCT the Summer Family Musical gives students and families a chance to perform together, because we cast family units together in the play! Summer Family Musicals are celebratory for us we get to include all ages together on stage and behind the scenes.
This story is a great way to start conversations about...
self-image and celebrating the things that make us special. All of us are different from each other and sometimes our differences can make us feel isolated or insecure. This story both unites all of us that we are not alone in feeling down on ourselves every now and then, but that we also have to learn to recognize that we have so much value in just being our true selves! Shrek The Musical is a great gateway to begin to talk with young people about the things that make them unique and how embracing those things – in ourselves and others – make us strong.
We love this story because...
it is a super fun chance to celebrate everyone! As part of a world that is constantly telling us what to wear, what to say, and how to act, celebrating your true self (even the wacky parts) is important. In this story, we get to watch Shrek, Fiona, Donkey, and their other fairy tale friends understand that fitting the mold is overrated and there is value in all of them! We also love Shrek The Musical because it follows an unusual hero: an ogre. Shrek proves that a hero can be anyone and more importantly, being a hero is about having strength on the inside. So this summer, we invite you to have the courage to "let your freak flag fly" every day and journey towards your own happily ever after. Sound
As a musical, this production is filled with underscoring as well as songs sung by actors to enhance the experience. Other recorded sounds can be expected to accompany particularly magical moments. More information about sound will be available once this production goes into Technical Rehearsals the week of July 13. Lighting
We anticipate that there might be some moments of darkness in between scenes, as well as a momentary flash or stark color change in specific moments to portray a magical effect. Patrons can expect red/blue changing lights during scenes that include the dragon. There will also be spotlights and moving lights during the production. These moving lights shine patterns and textures on the set and actors as well as around the stage. These sequences may affect patrons with photosensitivity.
Intensity
Like all fairytales, Shrek The Musical includes moments of danger that might be scary for younger audience members. In most instances, they are usually played for laughs instead of being truly terrifying. For example, Gingy the gingerbread man gets threatened with "torture" by Lord Farquaad, but all we see are guards bringing out baking implements and Farquaad threatening to pull off Gingy's gumdrop buttons.
Action
There are different moments throughout the story that resemble well-known fairy tales. This includes sword fighting, dragons and other magical creatures, and other elements of a hero's quest. All moments also live in the same humorous context and are stylized with young audiences in mind.
Language
Shrek The Musical includes some mild language and bathroom humor. If you want to know more about the specific language that is included in this production we would recommend listening to the Shrek The Musical soundtrack; the majority of the language moments occur in musical numbers.