When:
January 30, 2023 – February 12, 2023
all-day
2023-01-30T00:00:00-05:00
2023-02-13T00:00:00-05:00
---
As of September 5, 2022 masks will be encouraged, but not required, in our building. For more information about how we're keeping our LCT Family safe, click the button below.
---
Family Weekend Performance Dates: February 11-12, 2023
School Day Matinee Dates: January 30 - February 10, 2023
Touring Dates: February 14 - May 12, 2023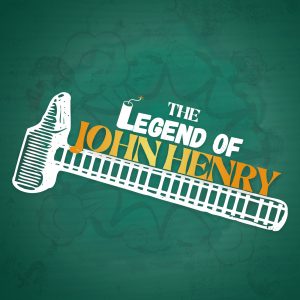 I'll die with this hammer in my hand, Lord, Lord—
I'll die with this hammer in my hand.
It was the age of steel drivers and riverboat captains, of telegraphs and travel on horseback, of explosive dynamite and great coal steamers chugging along the rails. The tracks of The Transcontinental Railroad were being laid down faster than you could shake a stick at them – and John Henry knew he had to follow those tracks to his destiny. But when a new invention threatens to take his livelihood and those of all his steel-driving companions, he decides it's time to take a stand. The race is on between man and machine, and John Henry is committed to the very end – even if it means making the ultimate sacrifice.
Adapted by Larry and Vivian Snipes
Best enjoyed by ages 8 and up
Location: The LCT Main Stage and On Tour
Length of Show: Approximately 1 hour long
---
Family Weekend Performance Info
Saturday, February 11– 2:00pm & 7:00pm* (*the 7:00pm show is Pay What You Will)
Sunday, February 12 – 2:00pm
Purchase Single Tickets Purchase a Membership
*To reserve Pay What You Will tickets in advance of a show, call our Box Office at 859.254.4546 x245
---
School Day Matinee Info
Monday-Thursday, January 30 - February 2
Wednesday-Friday, February 8-10
10:00am & 11:45am
Recommended for – 3rd-10th grade
Curricular Connections – Legends, Folk Tales, Music, African-American Literature & Culture, U.S. History, The Industrial Revolution
Schedule a Field Trip Learn More about Matinees
---
In-School Performance Info
The Legend of John Henry is also available to travel to your school or venue as part of LCT's Professional Touring Company. It travels with its partner show for grades 1st-5th, Anansi the Spider, from February 14 - May 12, 2023. Learn more at the link below!