Celebrity Curtain Call Digital Playbill
Ma

chére

Mademoiselle, it is with deepest pride

a

nd greatest pleasure that we welcome you tonight.


And now we invite you to relax and pull up a chair

a

s LCT proudly presents your evening in the Enchanted Castle!
6:30 - Doors open
Please check in at the Registration table in the lobby.
6:30-8:00 - Cocktails, Food, & Games
After finding your seat, please stop by the second floor for some delicious treats, provided by Puccini's Pizza Pasta and Sorella Gelateria. There are bars on the first and third floors that will be serving beer from West Sixth Brewing, wine, water & soda.
You will find the Silent Auction and Bourbon Toss game in the Learning Stage.
*We ask that no food be taken into the Learning Stage.*
8:15 - Silent Auction Closes
If you win one our silent auction prizes, don't forget to pick them up in the lobby after the show.
8:30-10:00 - Show time!
Seating in the Larry & Vivian Snipes Main Stage will begin at 8:15. The performance of Beauty and the Beast will begin at 8:30 and our LIVE Auction will take place at intermission.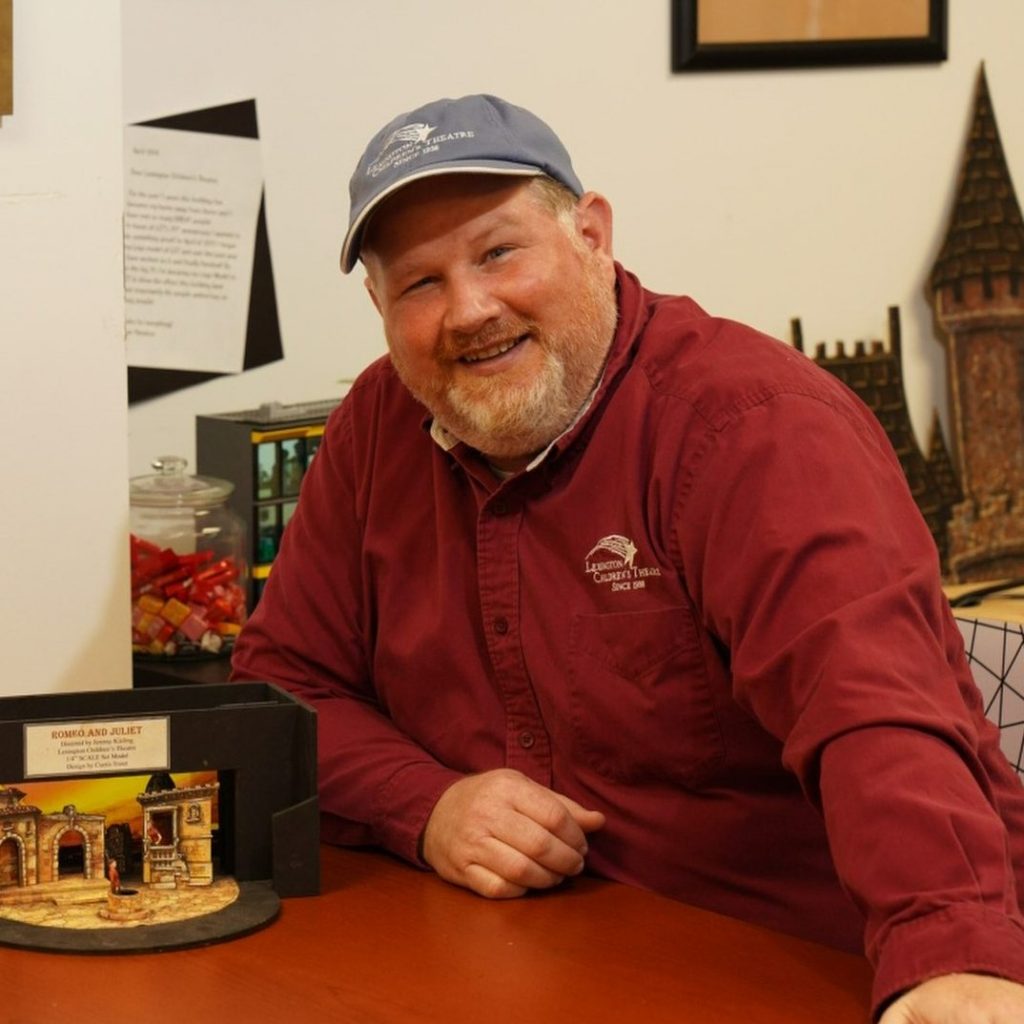 Jeremy Kisling, Producing Artistic Director
We at Lexington Children's Theatre are so excited you're here! We originally scheduled this night to occur over two years ago. During this pandemic, the staff and board of Lexington Children's Theatre have been committed to providing quality arts education experiences for young people and their families. We have produced and shared productions on video, we held classes online, we have performed outdoors, and have consistently worked to serve our mission while keeping our youth engaged with the arts. The community has been amazing in their support of our organization, and we thank each of you for that. But now it's time to come back stronger. It's time to recommit to our community and its youth. We want every young person to be a part of our classes and productions. We want to go out into our community and share the camaraderie and artistry of theatre. We are excited about what is ahead of us. But we can't do that alone and we certainly can't do it without your support. LCT works hard to reach over 125,000 youth each year across the state. So tonight, we hope that you enjoy our celebrity cast performance of Beauty and the Beast and give as generously as you can to help us continue to bring those arts education experiences to the young people of Kentucky!
Ashlee Collins, Development Director
Welcome to my favorite night of the year! There is something really special about Celebrity Curtain Call and I can't wait for you to see the magic for yourself. While you are here, I invite you to play, learn, imagine, and enjoy all we have to offer.
Lexington Children's Theatre would like to express our sincere gratitude to the people and businesses that have made Celebrity Curtain Call In the Enchanted Castle possible! Extra-special thanks are due to our incredible staff and Board of Directors – without your support, hard work, and dedication, we would not be able to pull off such an amazing event!
I would like to lift up the support of our event sponsors D&D Machinery Movers Inc., Lexington Event Company, Ball Homes, QX.net, Keeneland Association, Toyota Motor Manufacturing, Morgan Stanley, Wildcat Moving, and our food and drink sponsors, Sorella Gelatoria, Puccini's Pizza Pasta, West 6th Brewing Company, Ale-8-One, and High Bridge Spring Water. We would also like to thank our major contributors, LexArts, The Shubert Foundation, The Kentucky Arts Council, the National Endowment for the Arts, and our media sponsors, WLEX, 96.9 Kiss FM, and CD 106.3.
Additionally, many thanks are owed to all the individuals, vendors, retail stores, area attractions, hotels, and more that donated items for our live and silent auctions. Lexington is fortunate to have incredibly generous local businesses, and we hope that you show your support and patronize our sponsors and donors!
We of course must salute our cast, who deserve the highest accolades for not only generously giving of their time and efforts to make Celebrity Curtain Call such an amazing event, but for their good-natured willingness to play make-believe onstage for our entertainment!
And finally, thanks to YOU, our honored guests. Your support of this event will help young people and families across Kentucky enjoy the amazing arts experiences that LCT provides every day.
Michael Adams, Bookseller/Barkeep
Michael Adams is a Commercial Lender with Independence Bank, currently the fifth largest Kentucky Bank with $3.2B in assets. Originally from Pontiac, Michigan, Mike attended Kentucky State University on a football scholarship. Since graduating from KSU, he has spent over 10 years of his professional career in business lending as he developed a passion for helping small businesses and investors thrive through financial resources including access to capital. From mentoring to leadership opportunities, Mike serves the Lexington community in various capacities. He is currently the Sponsorship Committee Chair of the Lexington Bluegrass Area Minority Business Expo and is a board member of the Commercial Property Association of Lexington. He co-founded the Kentucky Black Bourbon Guild Inc. (KBBG), a 501c3 organization that bridges the gap between African Americans and an $8.6B bourbon industry through education and workforce development. Mike is also a newly appointed Board of Regent for Kentucky State University. Of his many accomplishments, Mike without a doubt considers his greatest to be his 8-year-old son, Noah Adams. He enjoys spending time with Noah, fitness, traveling, music, and obviously indulging in everything bourbon.
Di Boyer, Mrs. Potts
Di Boyer joined the LexArts development staff in September of 2017, after serving on the board for over five years. Boyer's Kentucky fundraising career began as Executive Director of Vision Versailles, a downtown development and historic preservation nonprofit. Boyer has helped to expand private support through increased major gifts for the Fund for the Arts Campaign, Arty Party fundraising, and grant writing. She is a graduate of Leadership Woodford, Leadership Central Kentucky, and Leadership Lexington. In 2019, she was honored as one of Lexington's Amazing 8 because of her passion for philanthropy and serving others during her 40- year career.
Born and raised in Dubuque, Iowa, Boyer graduated magna cum laude from Midway University with a Bachelor of Arts in Organizational Management. She and her husband Rod, have been married for 36 years, reside in Versailles with their golden retriever, Lenny Dawson, and are the parents of two grown children, Brittany, Landon, and his wife AJ. For fun, Di enjoys art of all levels and loves gardening and floral design, especially for weddings. She is a party planner and hostess who also enjoys an occasional good local bourbon.
Raymond Daniels, Villager #2/Wolf
Raymond Daniels is President and CEO of Equity Solutions Group a strategic sourcing and consultant company. Prior to founding Equity Solutions Group, Daniels worked 27 years serving many corporate level roles for Waffle House, Inc., including Disaster Relief Manager for Operations, Director of Diversity and Minority Affairs, Senior Vice President of Operations, and owner/operator of a 13-unit franchise Lexidan Foods for 13 years. He serves on multiple boards including the Kentucky Chamber of Commerce, Commerce Lexington, Community Ventures Corporation, Urban League of Lexington, Kentucky, Kentucky State Tourism Board and University of Kentucky board of trustees. Daniels recently co- founded the Ed Brown Society, a non-profit focused on increasing minority exposure and employment in the Equine industry.
Greg Funfsinn, Cogsworth
Greg Funfsinn is an attorney who handles all aspects of personal injury litigation with a strong focus on motor vehicle accident, wrongful death, and catastrophic accident cases. Mr. Funfsinn completed his undergraduate studies at Loyola University Chicago and received his law degree from Chicago-Kent College of Law. Following law school, Mr. Funfsinn worked in Chicago for several years as a criminal prosecutor at the Cook County State's Attorney's Office, which is the nation's 2nd largest prosecutor's office. While in Chicago, he met his wife, Aaron Ann Cole-Funfsinn, a native of Lexington, Kentucky. In 2012, he and Aaron Ann were married and are now the proud parents of two young sons, Sawyer and Gus. Since 2012, Mr. Funfsinn spent several years at civil litigation firms in Lexington defending businesses and individuals. In January 2018, Mr. Funfsinn and his law partner Josh Hicks opened a boutique personal injury law firm, Hicks & Funfsinn, PLLC, where he helps people injured in accidents. In his free time, Greg enjoys volunteering for Lexington Habitat for Humanity and sits on the Boards of DiverCity Festival Lexington and the March of Dimes Signature Chefs Auction.
Amy Green, Narrator #2
Amy Green is the current Vice Chair of the Fayette County Board of Education and a mom/wife to an amazing family. She has been a Lexingtonian since 2000 and earned three degrees from the University of Kentucky.
Amy is a professional educator and has taught in both K-12 public schools and post-secondary institutions. Most recently she served as a faculty member of the Mathematics Department at UK.
Amy loves to spend her free time outside, reading, cooking, and creating – from crafts to construction. She is also an active member of several community organizations, including being a current member of the 2021-2022 Leadership Lexington Class. Amy cares deeply about her community and the children. Her heart is with the kids and has dedicated her life to serving our next generation
Lori Halligan, Silly Girl #2
For the past three years, Lori Halligan has served as Executive Director of The Living Arts & Science Center, a position made more challenging by the ongoing pandemic. She extremely dislikes the word pivot, instead choosing to focus on innovation, flexibility, and creativity. Lori especially enjoys building a sense of community and encouraging others to pursue their dreams and develop their innate abilities. (Looking at you, Ashlee Collins!) Lori's background includes volunteer and paid positions in nonprofit, for-profit, scholastic, social service, and faith based organizations. Prior to moving to the Bluegrass, she served eight years as Executive Director of Hinsdale Humane Society in the Chicago area and is the proud pet parent of a rescue Shih Tsu, Zoe. From humble beginnings as a farm girl from Iowa, to marrying her college sweetheart, to raising a family while living and working in eight different states, Lori has been blessed along the journey in partnership with Michael Halligan.
Mike Halligan, Narrator #1
Michael Halligan serves as CEO for God's Pantry Food Bank. Mike joined the Food Bank team after serving in a number of senior procurement management positions at ConAgra Foods. Prior to that, he worked as senior vice president of food sourcing and logistics at Feeding America and also held a variety of positions with PepsiCo and The Quaker Oats Company. He earned a Bachelor of Science degree in Industrial Engineering from Iowa State University and is a member of the Alpha Pi Mu Industrial Engineering Honor Society.
Mike was born and raised in Muscatine County, Iowa and has been active in the communities where he's worked and lived including locations in the Midwest, on both the East and West Coast, the greater Chicago area, and now here in Lexington. Social services and youth fitness are two passions. He coached 8th grade and high school football for 12 years while living in the Chicago area. In Lexington, Mike is a member of Rotary and recently served on the Commission for Racial Justice & Equality. He is a graduate of Leadership Kentucky, a Kentucky Colonel, and a recipient of numerous awards including the Living Our Values Award from Feeding America, the Crystal Award from ConAgra Foods, and a Laureate in Equality from the Tech Museum of Innovation. Mike and his wife, Lori (who serves as Executive Director for the Living Arts and Science Center), moved to Lexington in 2017. They are the proud parents of two grown sons and a wonderful granddaughter.
Timothy Johnson, Lumiere
Timothy Johnson is the President and Chief Executive Officer of United Way of the Bluegrass where he leads a 100-year-old, philanthropic organization charged with delivering impact throughout ten counties of Central Kentucky. Previously, he served as Chief Strategy and Impact Officer at United Way of the National Capital Area where he oversaw the organization's marketing and communications, grantmaking, fee-for-service program management, community engagement work, volunteerism, capacity building, public policy, and over $20M in programmatic investments across Maryland, Northern Virginia, the Virginia Piedmont region and the District of Columbia. Timothy is a philanthropist who has dedicated his career to eradicating poverty and promoting equity and diversity. He has served in a number of senior leadership roles at United Way of Greater Philadelphia and Southern NJ, United Way of NYC and the Robin Hood Foundation.
He holds a BS in Biology from North Carolina Central University and a MS in Nonprofit Management from Milano The New School for Management and Urban Policy in NYC. He has years of nonprofit board service and currently serves on the board of United Way of Kentucky, the Ed Brown Society, and Leadership Lexington's Steering Committee. Timothy resides in Lexington, KY with his lovely wife Opa and serves his community as a proud Prince Hall Freemason, Shriner, and platinum life member of Phi Beta Sigma Fraternity, Inc.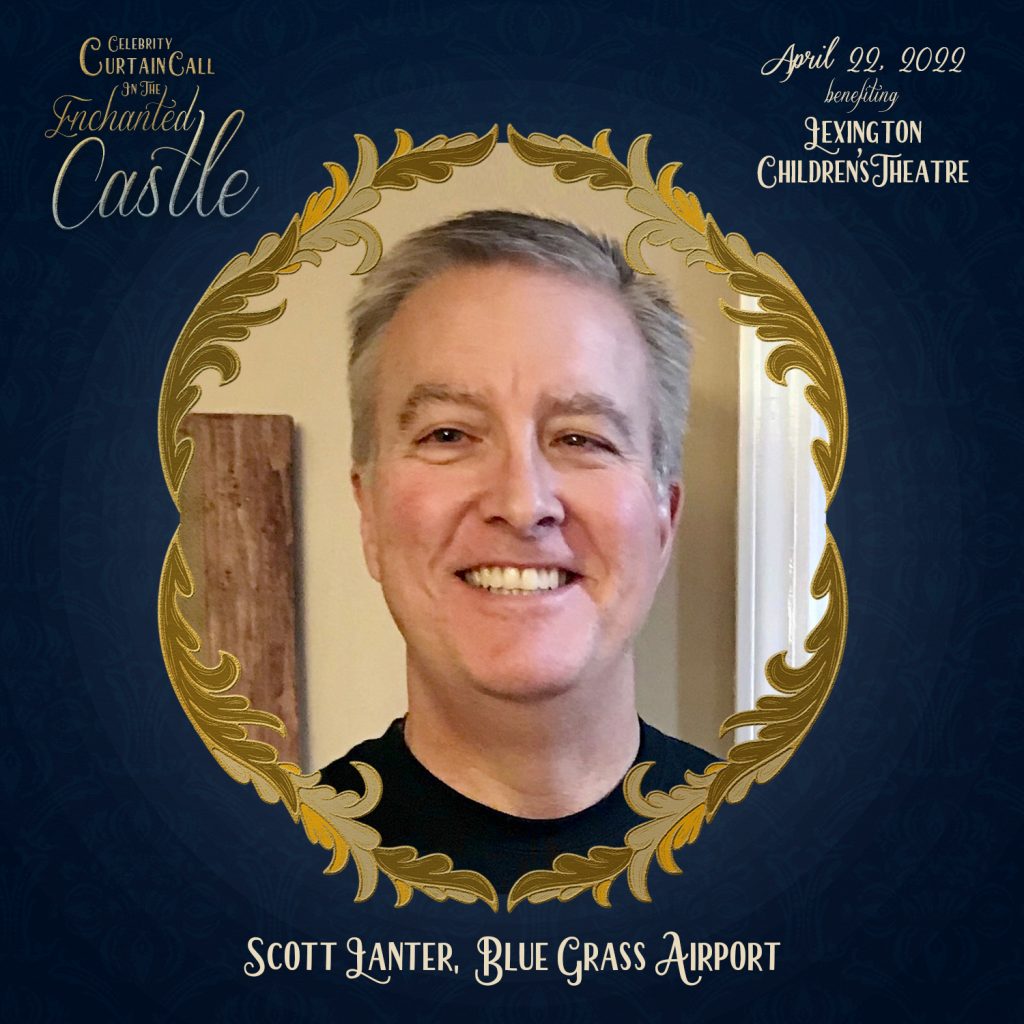 Scott Lanter, Maurice
Scott Lanter, A.A.E. is the Director (Chief) of Public Safety and Operations at Blue Grass Airport. As a member of the airport's executive team, he is also responsible for all emergency operations as well as management and leadership of the airports Public Safety and Operations departments, the Regional Fire/Rescue Training Center and WestLEX, the airport owned general aviation facility. Scott, who began his career at the airport as a police officer/fire fighter in 1987, holds a bachelor's degree in Fire and Safety Engineering and a Master's degree in Criminal Justice from Eastern Kentucky University and is a graduate of the FBI National Academy. A member of THE BEST Leadership Lexington Class, the Class of 2018-19, he is also a lifetime member of the Leadership Lexington Alumni Association and currently serves on the Honor Flight Kentucky, Board of Directors. Scott is excited to participate in Celebrity Curtain Call and is hopeful that tonight is his first step towards a retirement acting gig!
Mark Mahann, Chip
Mark Mahan is a fourth-generation farmer turned construction service worker who decided to take his passion of photography and turn it into a career. Mark owns Mahan Multimedia, a studio that believes photography and videography should represent where light meets story. Mark and his team produce breathtaking images and videos that help tell those stories. That journey has taken him to multiple Kentucky Derbies, countless UK games, video productions for inspiring nonprofits, and connected him to incredible clients like Lexington Children's Theatre. Mark currently shares 50 acres on Shannon Run with his wife Melissa, two kids, two horses, and two dogs.
LaToi Mayo, Belle #2
LaToi D. Mayo has advised, counseled and defended employers in regard to labor and employment matters for over 20 years. Most recently, LaToi has developed extensive skills in enforcing employment related arbitration agreements, defending and managing wage and hour class actions and advising employers on state and federal wage and hour compliance issues. She also routinely assists employers with respect to diversity, discrimination, and leave issues. She works frequently with hospitality and service-related groups, manufacturers, health care facilities, financial institutions and local city governments. LaToi routinely presents at seminars focusing on labor and employment topics for a variety of professional organizations in Kentucky. She also conducts training for managers, supervisors and the general workforce and provides labor and employment compliance counseling. Bio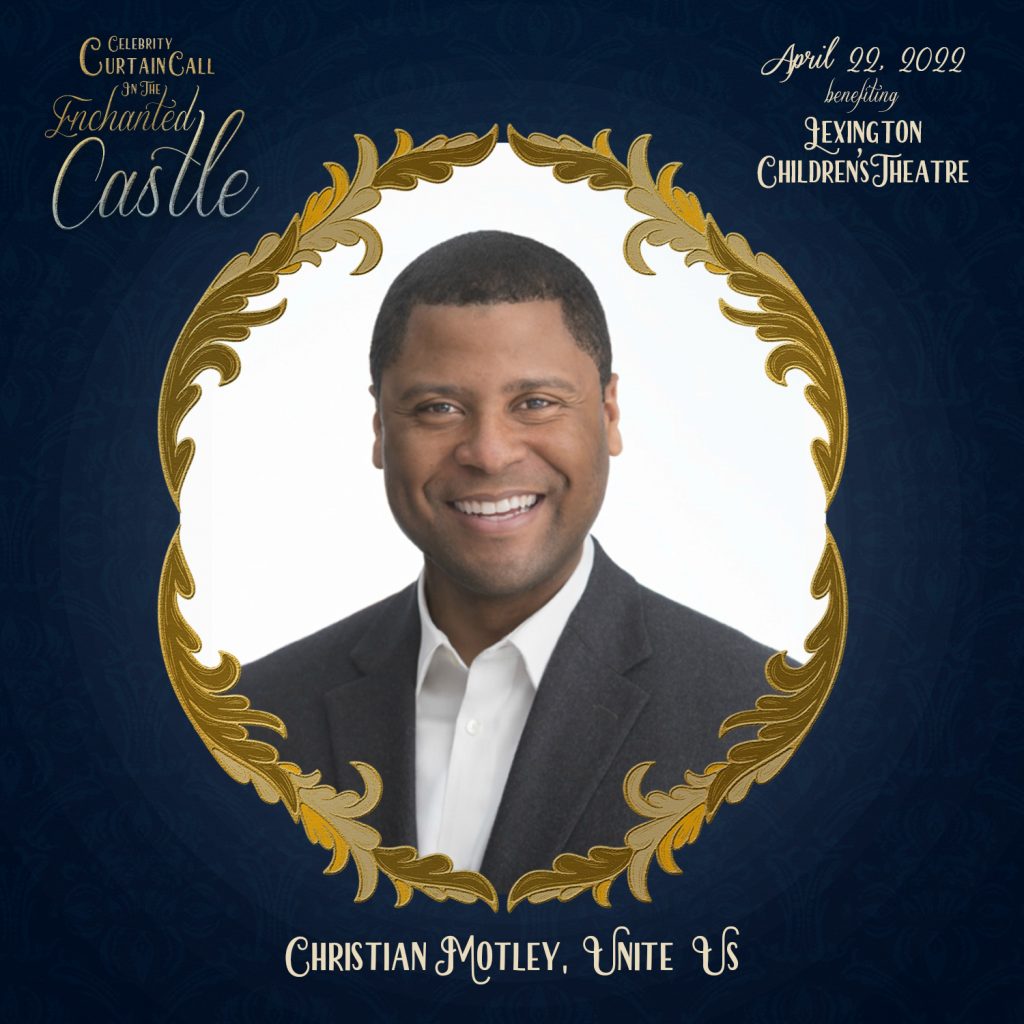 Christian Motley, Gaston
Christian Motley serves as the Kentucky Network Director for Unite Us, a technology company working to address social determinants of health through coordinated care networks of health and social service providers. Previously, Christian served as the director of policy and partnerships at StriveTogether. There he supported place-based cradle to career coalitions across nearly 70 communities nationwide, facilitating urban/rural collaborations and using data and evidence to shift policy across federal, state, and local government. In Lexington, Christian serves as board member for Lextran and Big Brothers, Big Sisters of the Bluegrass, just up the road from his beloved alma mater, Berea College.
Kaelyn Query, Babette
A Lexington native, Kaelyn started her career in the hospitality and entertainment industry and her business at age 14. She is the Founder and President of Lexington Event Company, an Event Management, Planning, and Consulting Firm serving clients across the U.S. - and also owns LexEffect Venues, which owns and/or operates several venues in central Kentucky. Kaelyn graduated from the University of Kentucky with a degree in Communications and Marketing/Management and is one semester away from earning her MBA from Louisiana State University.
Andrew Shayde, Beast
Andrew Shayde is an actor appearing in independent films and such stage shows as The Boys in the Band and Sordid Lives. He has also had two wild adventures on reality tv appearing on The Amazing Race on CBS as well as Discovery Channel's Naked and Afraid. Andrew is the author of several critically-acclaimed graphic novel series and has been a panel speaker at comic conventions around the nation like New York City Comic Con. Andrew has worked in nonprofit for nearly 20 years, raising over 10 million dollars for charitable organizations. Currently, Andrew is the Development Director at Arbor Youth Services, an emergency shelter for kids in Central Kentucky.
Shericka Smith, Madame La Bouche
Shericka D. Smith was born and raised in Lexington, Kentucky and is a mental health coordinator for Fayette County Public Schools. Shericka obtained an undergraduate degree from Transylvania University where she studied Spanish and Psychology. She then went on to the University of Louisville, earning her Masters in School Social Work. She is currently pursuing a Doctorate in Social Work and teaching classes at the University of Kentucky. She also provides mental health counseling at Counseling Associates, working with people of all ages. Shericka credits her parents for instilling the desire to work with youth and has always been determined to pour into the same Lexington community that poured into her. In her free time, Shericka enjoys traveling and watching movies with her dog, Ellie Mae.
Hunter Stout, LeFou
Hunter Stout received his Bachelors of Science in Accounting and Masters in Business Administration from the University of Kentucky. Hunter worked in public accounting for thirteen years prior to his current role at Keeneland where he serves as the Senior Director of Finance. He is a current member and past president of the Board of Directors for Big Brothers Big Sisters of the Bluegrass and serves as the Treasurer for both Hopewell Church and Park Early Childhood Center. Hunter is married to Amy Stout, better known for her outstanding Celebrity Curtain Call performances as Maid Marian and Ursula the Sea Witch. Hunter and Amy have two children, Chloe and Jack. In his "free time" Hunter enjoys long walks with a stroller through the Arboretum, cooking, cleaning dishes, taking out the trash, laundry, changing diapers, and reading books to his kids.
Lori Street, Silly Girl #1
Lori Street is an experienced finance professional with a passion for excellence, exceptional customer service, creative problem solving, and synergistic business results. She helps solve finance and accounting challenges of business owners, allowing them to focus on their company's growth. Lori Street is the founder/owner of LS Advisor Group where she provides outsourced CFO services to various clients ranging from small family businesses to multi-million-dollar companies. She has served on various nonprofit boards and is an honorary board member of Lexington Children's Theatre. Born and raised in Indianapolis, Indiana, Lori moved to Lexington in 1993. She has two children, Abigail (26) and James (22) and one old dog. She enjoys cooking, traveling, live music, and making memories with friends and family.
Kevin Sutphin, Villager #1/Wolf
Kevin Sutphin is currently an Executive Director with JPMorgan Chase's commercial banking division in Lexington. Kevin has been a longtime board member and former Board Chair of Partners for Youth, an organization that works to improve the lives of economically disadvantaged youth. He also serves on the board of the Kentucky Chamber Foundation and as Treasurer of the 500s on Main Council of Owners. Kevin is a 2005 graduate of Leadership Lexington and a 2008 graduate of Leadership Kentucky. Kevin and his wife Stephanie happily live on Short Street next to the Lexington Children's Theatre and will be pouring cocktails after the show!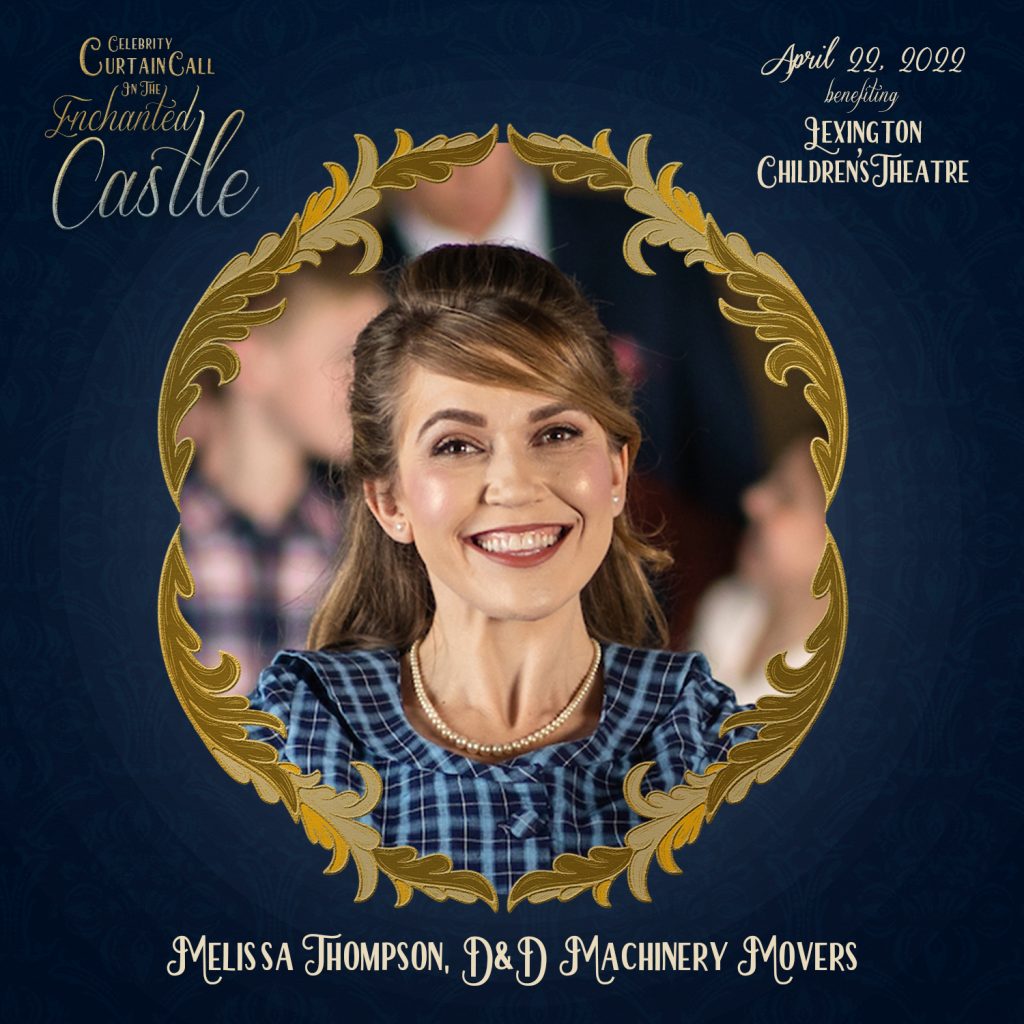 Melissa Thompson, Belle #1
Melissa Thompson is the Project Cost Manager at D&D Machinery Movers and Millwrights Inc., a family-owned and operated business established by her grandfather in 1976. Melissa is the mother of a 14-year-old son (Holdon), who is currently an 8th grader at The Lexington School and will be a freshman at SCAPA this fall. She has performed in several LCT productions, first as a solo artist over a decade ago and most recently sharing the stage with her son Holdon in Annie and The Best Christmas Pageant Ever: The Musical. She is a first-year LCT board member and is thrilled to be a part of LCT's Celebrity Curtain Call in the Enchanted Castle!
Elizabeth Barrera, Dinsmore & Shohl
Resa Browning, Just the Wright Touch/Seeds and Saplings
Caroline French (Treasurer Elect), Bank of the Bluegrass
Nancy Fulks, Age International
Jason Goh, State Farm
Lisa Deaton Greer, UK Healthcare
Ty Hendrickson, The Sales Seed
Michael Kunjoo, Wilson & McQueen, PLLC
Tim Martin, Assured Partners
Ann-Phillips Mayfield (President), LRC (Lexington's Real Estate Company)
Mattie Morton, Exhilarating Inc.
Britney Moughamian (Secretary), Community Volunteer
Michael Overstreet, Lexington Leadership Foundation
Kelli Parmley (Development Chair), Lexington Public Library
Matthew Parsons, Stoll Keenon Ogden PLLC
Kaelyn Query, Lexington Event Company
Catherine Salsman (Treasurer), Morgan Stanley
Melia Schmidt, Schmidt Homeschool
Miranda Scully, Fayette County Public Schools
Kevin Sisler (President Elect), University of Kentucky
Shannon Skeeters, Ball Homes
Amy Stout (Operations Chair), Commerce Lexington, Inc.
Melissa Thompson, D&D Machinery Movers & Millwrights Inc.
Whit Whitaker, The Lyric Theatre and Cultural Arts Center
Dominique Wright (Governance Chair), Lexmark International Inc.
Honorary Board
Heather Barron, Ball Homes
Lori DeSantis, B2B CFO
Jane Fraebel, Bank of the Bluegrass
Debra Locker Griffin, Locker Public Relations
Susan Herren, Community Volunteer
Eric Lycan, Embry Merritt Shaffar Womack PLLC
Valerie Marshall, Fifth Third Private Bank
Laurel Raimondo Martin, Junior Achievement of the Bluegrass
Cory Reitz, r + r CPAs, PSC
Jim Richardson, Morgan Stanley
Ali Robinson, Robinson Technical Group, LLC
Silent & Live Auction Packages
Thank you to our Silent Auction Donors!
21C Museum Hotels, Anna Rose Arts, Arthur Murray Dance Studio, Big Ass Fans, Blanton's, Blue Grass Tours, Blue Whiskey, Bluegrass Adventures, Bobby & Cheryl Taylor, Samantha Riney, Carl Meyers Boutique, Carnegie Center for Literacy & Learning, Carpet One, Churchill Downs, Cincinnati Playhouse in the Park, Cincinnati Reds, Cinemark Fayette Mall, Comedy Off Broadway, Country Boy Brewing, Cricket Press, Zone: Fitness for You, A Cup of Commonwealth and Chocolate Holler, Cut and Paste Craft Studio, CycleYou, Debra Griffin, EKU Center for the Arts, Ethereal Brewing, Equus Run Vineyards, Explorium of Lexington, The Eye of the Needle, Gattitown, Good Foods Co- op, Graeter's Ice Cream, Half Price Books, Henry Clay Estate, Hilton Lexington Downtown, House, Image360, J&H Lanmark, Josies, Keeneland Association, Kendra Scott Jewelry, Kennedy Space Center Visitor Complex, Kentucky Horse Park, Lex Rage, Lexington Philharmonic, Lexington Tennis Club, The Little Gym, Live Well Training, Living Arts & Science Center, Louisville Slugger Museum, Malibu Jacks, Maple and J, Mary Todd Lincoln House, Ali Robinson, Ober Gatlinburg, Omar + Elsie, Oram Flowers, Pegasus Distilled Tours, Pioneer Playhouse, Playhouse on the Square, Seeds & Saplings, Shaker Village of Pleasant Hill, Skyline Chili, SkyZone, Stratton Eyes, Talon Winery, The Lexington Theatre Company, The Stephen Foster Story, Tony's Steaks and Seafood, UK Art Museum, University of Kentucky Opera Theatre, Nathan and Tempa Hohman, Wilderness Trail, Worlds Apart
Wish upon a falling star!
Help us share about the power of the arts to all of Lexington by making a wish on an LCT falling star!
1. Select a star from the wall across from the board room on the first floor.
2. Write your name on it and share a wish.
3. Bring your star to the lobby and a staff member will help you tape it on the glass windows. There will be extra pens at the registration desk if you need them!
3. Donate the amount written on the star!
If every star is selected, you will have collectively donated $5,000!
Bourbon Toss
Visit the Learning Stage on the second floor to play our Bourbon Toss game! Pay $30 and you are guaranteed to win a bottle valued at $20 to $60!
*PLEASE do not purchase a Bourbon Toss Ticket until you see the bourbon toss attendant in the Learning Stage.
Thank you to our Sponsors
Even MORE ways to Support LCT
If you'd like to learn more about what we're doing to help our community, and how YOU can help, please check out our IDEAs and Commitments page on our website or reach out to our staff at emcguire@lctonstage.org. #LCTFamily #GreenCheckLex #CelebrityCurtainCall
We couldnt have done it without you
Without the support of the following individuals, this night would not have been possible:
Beam Suntory, Copy Express, Halfhill Auction Group, Sally Horowitz Photography, Mahan Multimedia, Brady Barlow, Resa Browning, David Carpenter, Liam Casey, Lucy Davis, Jason Goh, Jay and Amy Harris, Alma Kajtazovic, Adam Luckey, LaToi Mayo, Ann-Phillips Mayfield, Lindsay Mattingly, Melanie Simpson, and Dominique Wright.
Thank you to our Major Contributors