Rudolph the Red-Nosed Reindeer Jr.
When:
November 25, 2022 – December 5, 2022
all-day
2022-11-25T00:00:00-05:00
2022-12-06T00:00:00-05:00
---
As of September 5, 2022 masks will be encouraged, but not required, in our building. For more information about how we're keeping our LCT Family safe, click the button below.
---
Family Weekend Performance Dates: November 25-27, 2022
School Day Matinee Dates: November 28 - December 5, 2022
Audition Dates: September 22-24, 2022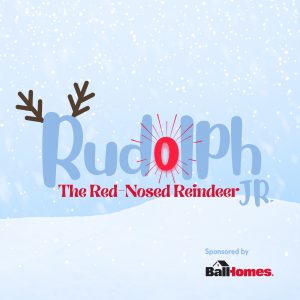 Join us on a holiday adventure to the North Pole! In this musical adaptation of the beloved television special, Rudolph doesn't feel like he fits in at Santa's workshop, so he sets off through the wintry woods to try and find where he belongs. Along the way, he meets many other "misfits" including Hermey the Elf, Bumble the Abominable Snow Monster, Clarice, Yukon Cornelius, and of course, the Island of Misfit Toys. Together with his new friends, Rudolph discovers that our differences can be our greatest strengths – and good things come when we lend a helping hand (or hoof!) to those around us.

Music & Lyrics by Johnny Marks
Script Adaptation by Robert Penola
Arrangements by Timothy Splain
Orchestrations by William C. White
Based on the animated television special "Rudolph the Red-Nosed Reindeer" adapted from the story by Robert L. May and the song by Johnny Marks. Developed by Character Arts Creations, LLC.
Best enjoyed by all ages
Location: The Lexington Opera House (401 W Short St, Lexington, KY 40507)
Length of Show: Approximately 1 hour long
Auditions for Rudolph the Red-Nosed Reindeer, Jr. will take place September 22-24, 2022 and are open to anyone ages 9-18! Learn more on our Auditions page.
Sponsored by:
---
Family Weekend Performance Info
Friday, November 25 – 7:00pm
Saturday, November 26 – 2:00pm & 7:00pm* (*the 7:00pm show is Pay What You Will)
Sunday, November 27 – 2:00pm

Purchase Single Tickets Purchase a Membership
*To reserve Pay What You Will tickets in advance of a show, call our Box Office at 859.254.4546 x245
---
School Day Matinee Info
Monday-Friday, November 28 - December 2
Monday, December 5
10:00am & 12:00pm
Rudolph the Red-Nosed Reindeer Jr. is recommended for – PreK-5th grade
Curricular Connections – Bullying and Kindness, Adaptation, Holiday Traditions and Celebrations, Individuality
Things to Know Before the Show
This story is a great way to start conversations about...
individuality and insecurities. Hermey is one of Santa's elves but does not enjoy making toys. Rudolph is a reindeer but has a glowing red nose while everyone else has a solid black nose. For the first part of the story, all Rudolph and Hermey hear is anger, shock, and mockery. It is only when they find community with each other and the Misfit Toys that they begin to consider that their differences are not negatives like they've been told. As people, we have a lot of similarities, but we have differences as well. It can be really challenging to view our differences as positives, especially in a world that doesn't always celebrate them, but the journey of self-love and acceptance brings us more freedom and joy than Christmas morning! On the other hand, we can learn a lot from the residents of Christmas Town, who were so quick to reject a couple of unique qualities without considering that those differences might in fact be strengths. If we could be slower to judge, and more prone to be curious about how all our differences make us stronger, the world might just be a little more joyful.
We love this story because...
it spreads the joy of community and friendship. All throughout the story of Rudolph the Red-Nosed Reindeer Jr. the characters work together to accomplish different jobs in Christmas Town. We see Rudolph, Hermey, and Yukon brought together by their shared experiences. They find it nice to have company on their travels, but also discover the special bond that is created between them as they face and overcome challenges together. In addition, Santa and the other Christmas town residents discover that they need every reindeer to make Christmas happen as well as the Misfit Toys that are needed to make boys and girls happy all around the world! Together, we can do amazing things. How will you be a part of your community this Holiday season? Sound
More information about sound will be available once this production goes into Technical Rehearsals.
Lighting
Rudolph's nose will be illuminated using a red glowing light. There will be fog and haze used in the show. During one scene, a slow "chase" of lights that change colors from left to right across the stage happens for a minute or two.
Intensity
The story follows Rudolph through a world that sees him as "misfit". This means that Rudolph and Hermey are both struggling with their self-esteem. Together they must journey to discover how their differences make them valuable, even when everyone else is telling them something different. We all have things that make us different from the people around us, and we hope this story helps you talk about how these are things to celebrate and accept about ourselves.
Action
There are several scenes that include the Abominable Snowman trying to attack Rudolph and friends. The Bumble character is played by a large multi-piece puppet that stands about 8 feet tall. Although he might have big chomping teeth, he might not be so cold-hearted! We invite you to come and discover for yourself!
Language
Rudolph is called unkind names by the other reindeer in reaction to his unusual glowing nose. Most of the language is nose-centered and within the theme of Christmas town (I.e., "Misfit" "Nitwit").